About gary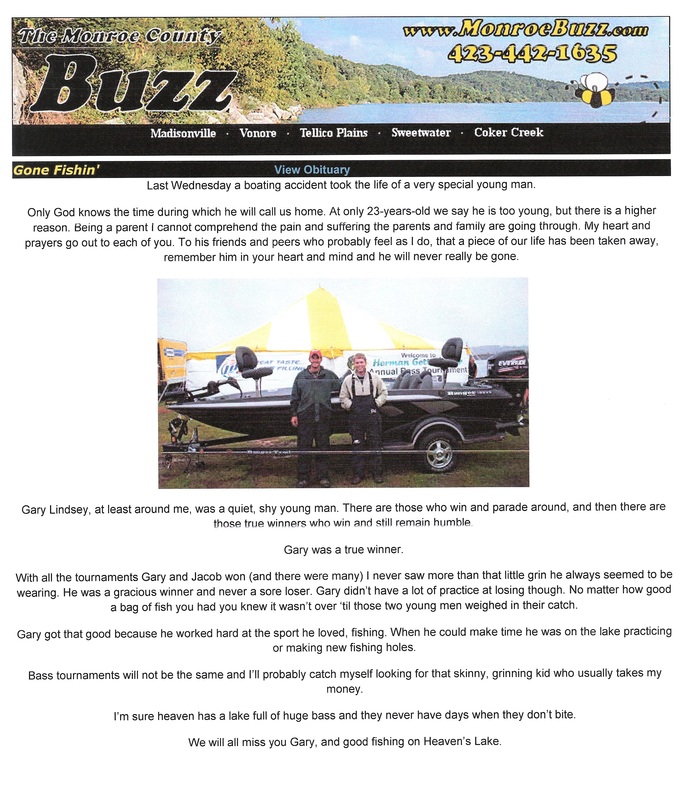 Gary Lindsey was an avid tournament bass angler who loved the outdoors and being on the water or in the woods. If he wasn't fishing, he was deer hunting. He was great at both sports. As a fisherman, he learned moon phases, spawning and habitat. He knew how to set a hook and lure them in because
of dedicated practice. He always had a fish story to tell along with his big smile. Gary was a friendly, lovable guy who never met a stranger.
On April 8, 2009, Gary left to scout for an upcoming fishing tournament on Tellico lake, but he never made it home. For three days and nights the search and rescue crews looked for Gary, finding him on Saturday, April 11.
Gary's mother, Janet Lindsey has written two books about Gary, grief and God's grace in loss. The first book which was published in 2012 is Peering Through A Mist. The second book was published in 2014 and is entitled, Therefore, Hope. Janet writes about the three day search for their son in Peering Through A Mist. These books can be purchased directly from Amazon or
janetlindsey.net
.